IAN KHAN
CNN Featured Futurist, Forbes contributor, 3 Time TEDx Speaker & Author, Ian Khan is a Technology Futurist on a mission to help organizations find a clear vision for a technology powered tomorrow. Ian's insights into how technology is affecting our personal lives and businesses, the path to adapt to these rapid changes and planning & executing a successful strategy to create unlimited value is at the core of his message. Ian is the author of multiple books including MEANINGFUL CONVERSATIONS. His insights and business philosophy has been shared with thousands of organizations and Fortune companies across the globe. Quoted by Forbes Magazine, CIO Magazine, and leading publications, Ian is a key voice in the industry.
tHE PROCESS FOR SUCCEEDING IN THE ERA OF DISRUPTION
Ian learnt this lesson early on. As an Engineer and a PMP Certified project Manager, the importance of the process is key to succeeding in any context. Businesses today more than ever are failing not because of external factors but because internal processes do not hold the weight of the needs of the business. This is why over 90% startups fail in the first 5 years. Ian promotes the value creation process as an integral part of his work, helping organizations soft from a reactive firefighting mode to a proactive process based methodology. As Ian says, "Success spelt in any other way would be Process".

WHY IS VALUE CREATION KEY TO SUCCEEDING IN THE FUTURE
Today our world is fast heading towards a data driven world. Data is everywhere. It is being generated by our computers, laptops, cellphones, watches and even connected cars and toasters. The prevalence of data is never going away and in fact will penetrate deeper into our everyday living. 
90% of the data around was was generated in the last two years
We utilise less than 2% of all the information we have generated
This and the next age will be an information driven world
Creating Meaningful Conversations

Every organization has unique needs. In the same way every session delivered is unique. Ian follow a process to design a highly relevant and resonating session every time.  By identifying Industry challenges and solutions, I am able to help provide a clear and crisp understanding of what needs to be done for maximum impact.
What Attendees Say
An honest & clear message that helps understand what tomorrow will bring.
CloudExpo
A very powerful & authentic message
TEDx
Ian presented key technologies that are changing the business landscape. His message highly resonated with the audience.
Big Data Toronto
Ian delivered a highly targeted and relevant session covering IoT
Utilities Technology Council
Thank you for your inspiring, informative, and thought provoking presentation.
Windsor Essex Economic Development Corporation
In the Press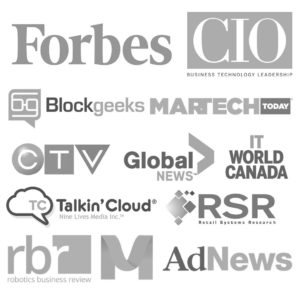 understand how technology will shape our future
Understanding tomorrow is a key driver for actions that you take today. Readiness for a technology enabled future starts by ensuring you have the processes and people to take you further. Ian can help simplify the unnecessary complexity and bring out the true value that tomorrow holds for your organization.